blog

Back
E-Scooters Have Officially Launched in Red Deer
Image via Creative Christians
This past May, the city of Red Deer approved the implementation of a two-year electric scooter (e-scooter) pilot program, and now it's officially launched!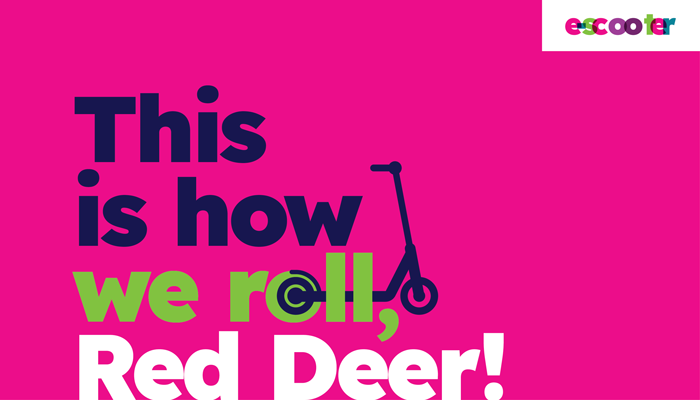 From the outset, the pilot program was to have no limits on the number of companies or e-scooters that could participate. As such, five different companies have so far been granted a permit to operate their fleet of e-scooters in Red Deer.
The five companies are Neuron, Roll Scooters, Link Scooters, Bird Canada, and Spin.
Bird Canada is a Calgary-based e-scooter company with black and white scooters, while Neuron offers orange e-scooters with safety helmets (the helmets are even app-controlled, the first in the world of its kind). Roll Scooters is providing yellow e-scooters, and they are a Canadian company incubated in the University of Toronto's Entrepreneurship Hub. Second to last is Link Scooters, which are also yellow. Finally, Red Deer residents and visitors alike will soon see San Francisco-based Spin's fleet of dockless orange and black scooters on sidewalks.
All five e-scooter companies will have their fleets available on sidewalks and paved trails throughout the summer, starting July 14th.
There is a special kickoff event happening on the 14th at Canada 150 Square. Taking place from noon until 6:00 pm, the event will feature food trucks, e-scooter demos, and entertainment provided by Andy Spandy. It is suitable for all ages and is a great way to be introduced to this new, fun, and innovative form of transport.
Please note that the e-scooter pilot program in Red Deer is currently available to those 18 years of age or older and all e-scooters are intended for one rider only.
If you're going to be in Red Deer this summer, then be sure to experience the city's new e-scooters for yourself. And if you need a place to stay during your visit, you're always welcome at the Days Inn by Wyndham Red Deer. We offer top-notch accommodation, luxe amenities, and a convenient location in the heart of the city.

Back
Recent Post
Calling all foodies! Alberta on the Plate is back for 2021, and we couldn't be more excited.
With COVID cases under control and Alberta's vaccination campaign underway, the province is finally starting to reopen. And that means that local events are able to move forward.

Prev Post
Next Post