blog

Back
Spring is Finally Here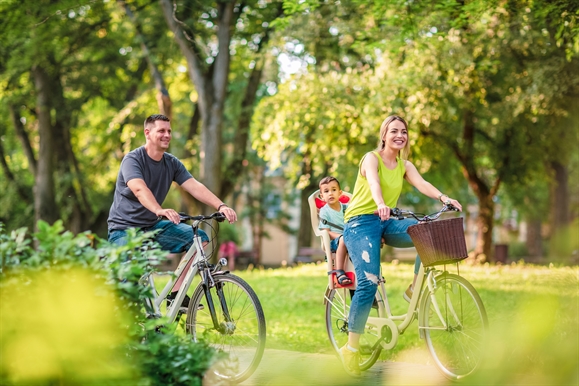 Spring is finally here and it is definitely time to say good-bye to winter clothes and say hello to the great outdoors that Red Deer has to offer. If walking or cycling is your thing, either alone or with friends/ family, check out the following suggestions. And if you have a four-legged friend, they can also enjoy some of the following outings that Red Deer has to offer.
The RED DEER TRAIL SYSTEM is well-known as one of the best in Alberta! There are kilometers of easily accessible, paved hiking, mountain biking and equestrian trails that easily connect park users to beautiful green areas and park attractions.
GAETZ LAKE SANCTUARY LOOP is Alberta"s oldest federal migratory bird sanctuary within Red Deer city limits. The Gaetz Lakes have been protected as a federal migratory bird sanctuary since 1924 and are now a part of the WASKASOO PARK. The sanctuary is approximately 300 acres which has been set aside for plants, mammals, birds and other wildlife. There are 5 kilometres of trails, a bird blind, and viewing decks. Please note that skiing, jogging, pets and cycles are NOT allowed as these activities would disturb wildlife. Free parking is available at the entrance on 45th avenue.
For the BIKING enthusiast, there are over 110 km's of hard and soft trails within WASKASOO PARK. Starting at HERITAGE RANCH and back via Bower Ponds and Taylor Bridge, the riverside setting provides a beautiful introduction to the park. Take a break at Bower Ponds bridge for a view, eat (there is a concession stand), rest, hang out or go for a ride on the paddle boats that are available. If you are either cycling or walking along the Red Deer River, it is impossible not to enjoy the beautiful, calming backdrop.
For a great family day, go to DISCOVERY CANYON which is a water park for family adventures along a lazy river, complete with a beach area, a large nature-themed playground, concession stand, and picnic tables. Bring your own tube or rent one for $5, then CRUISE down the gently sloped canyon going through bubbling pools of water and then into a river-fed pool surrounded by a sandy beach! Sounds like a perfect day not to be forgotten!
DAYS INN RED DEER is in the heart of the city, close to eateries, shows, theaters, and businesses. The Days Inn has a wide range of hotel amenities, a variety of comfortable, stylish accommodation, and a staff ready to welcome you. Enjoy your stay.

Back
Recent Post
St. Patrick's Day is almost here, and we can't wait to celebrate!
From dinner for two at Little Red Barn to an intimate couples massage workshop, check out the top Valentine's Day date ideas in Red Deer.
Next Post